Mid-Term-Elections: Re-election of President Rudolf Kolbe as Vice-Presedient of the Civil Organisaitons Group (CSO) and Spokeperson of the Professional Category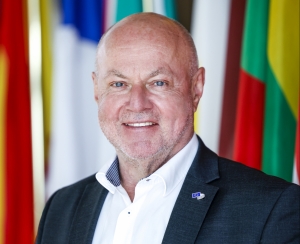 Our society is currently facing many difficult challenges. It is and has always been important to me to make the best possible use of my knowledge and experience, but also my humour and optimism, to meet these challenges successfully.
Many of the most pressing issues in society are closely linked to areas that are important to me personally due to my decades of professional experience and of championing the interests of those I represent.
With my professional background as a freelance surveyor, I am a small business owner and thus part of an important economic group that provides over 50% of economic added value in the EU.
For over two decades I have represented the interests of the so-called liberal professions at national and EU level on a voluntary basis. I am therefore aware of the great potential of SMEs and the liberal professions to meet civil society's – and therefore the Civil Society Organisations' Group's – most important objectives.
Eradicating poverty in all its forms is closely linked to the daily work of the liberal professions and ranges from ensuring sustainable and affordable housing and living conditions (architects and engineers, etc.) and resilient European health and welfare systems, including educational, economic and other support measures (doctors, pharmacists, social workers, lawyers, tax advisors, etc.), to all aspects of managing a fair and social green and digital transition, such as access to basic digital services, to necessary training and retraining, to support and much more.
My role is therefore also to share information and expertise, making use of my excellent links to many different civil society organisations (CSOs), which play a key role in addressing and solving many pressing issues related to poverty and its various challenges.
Decentralised CSOs and volunteers will also play an increasingly important role in finding appropriate local solutions to global challenges in the future. I therefore think it is essential, not just for me but for all of us, to further develope and step up contact with the public and with CSOs.
https://www.freie-berufe.at/wp-content/uploads/2023/05/CSO-1.png
585
1654
Anita Reinsperger-Müllebner
https://www.freie-berufe.at/wp-content/uploads/2016/07/BUKO_Logo-300x113.png
Anita Reinsperger-Müllebner
2023-05-03 13:50:58
2023-05-03 13:52:33
Putting all my expertise at the service of the CSO's priorities